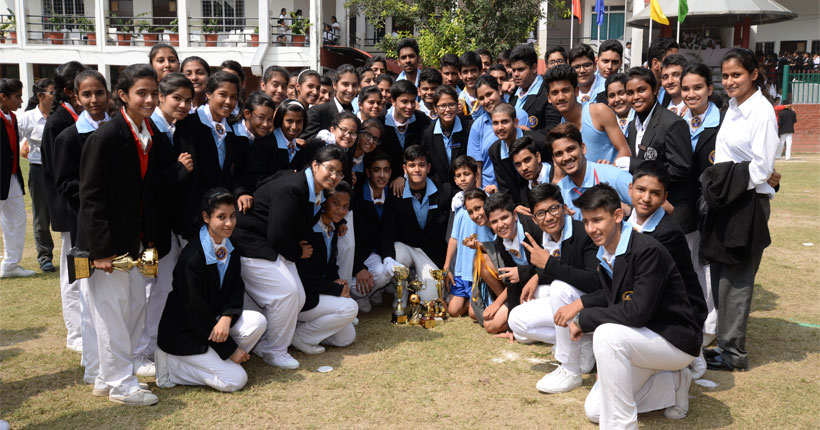 Annual Sports Day
Summer Valley is a school that lives, breathes and loves sports, the much awaited Annual Sports Day was held at Summer Valley School on 30th September, 2016 amidst great mirth, verve and merriment . Around 1500 students participated in various jaw dropping and zestful events.
Mr. Ashok Kumar , IPS (Additional Director General of Police)D/6 IG and an author was the illustrious and honable Chief Guest on the occasion.
The event commenced with a spectacular and well synchronized traditional March Past by the senior students of Summer Valley, which was appreciated with a round of applause by the onlookers. The event was an amalgamation of visual treats and nail-biting athletic endeavours. It marked the beginning of the captivating track events which saw the paramount participation of the students who gave their best to grab the most coveted gold medals. There were various track events like 80m race, 100m, 200m, 400m and 4 ´ 100 relay for both boys and girls. The various competitions proved cut throat one yet exhilarating for the audience who gasped and cheered on as they witnessed the atheletes putting their best foot forward bound and they never had a dull moment.
The most interesting aspect, embellishing the event were the splendid field displays which included a P.T. display by the boys of class 6, 7 and 8, a Karate show and a Ribbon dance by the girls of classes 6to 8. These displays rendered the spectators speechless and awestruck.
A closing march was held before the distribution of prizes and medals to the young winners.
The Ashoka House added another feather to its cap. It was adjudged to be the Best House, in the March Past. Akbar House won the trophy for both the best P.T Display and the best Ribbon PT . The Athletics trophy was won by Maurya House. The Overall Sports Trophy was won by Ashoka House. Tanisha Karanwal , DivyanshuRaj, Owais, Gargey Dobhal were declared the Best Athletes.
The Chief Guest gave away the medals and the trophies with great pride and applause. He lauded the students for their sportsmanship and indomitable spirit and energy. He emphasized how sports should be a quintessential part of every student's life.
The event concluded with the presentation of mementos to the dedicated staff of the school who played a pivotal role in bringing forth a great show. In the end the Principal proposed a vote of thanks.