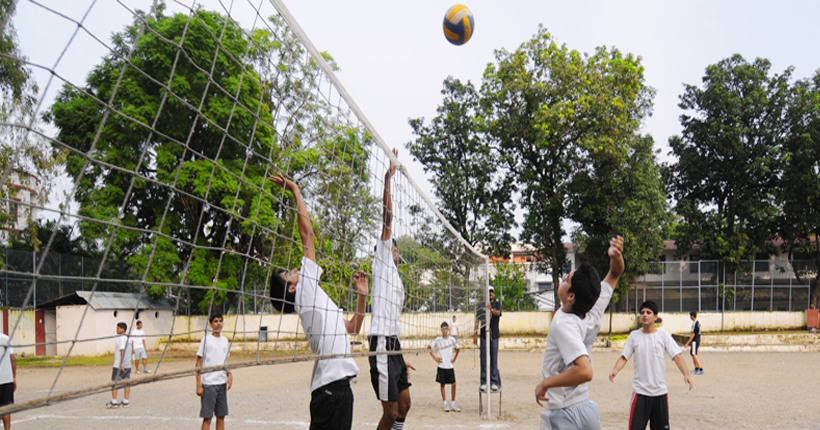 Sports
Children at Summer Valley School are encouraged to realise that marks are created in the classrooms but memories and personalities are created on the playing fields. It is here that children experience a myriad of emotions like euphoria, humility, defeat, resolute defiance of the scoreboard to rise against all odds to be a winner.
The school encourages its students to actively take up sports, indoor as well as outdoor, and provides them with the necessary infrastructure for cricket, football, volleyball, table tennis, badminton, basketball, roller skating, chess, athletics, shooting, gymnastics and aerobics.
Regular Physical exercise is given due importance in the school. Highly trained and professional coaches train the children in the various sports.
Inter house matches are conducted in the school on a regular basis. Children who are selected in the school team are also sent for council school matches, district matches and invitational matches of other schools.
Children have excelled in the various sports and made their mark in both state level and national level tournaments. Special Sport ties are given to children who excel in sports during Founders day each year.
The School organizes and participates in all school games and sports at the Inter-School, District, State and National levels. Our students have won laurels in the State and National Basket Ball, Shooting and Table Tennis competitions. But our forte is Table Tennis in which our students are undisputed champions year in and year out for the last many years. The School is a Sports Authority of India Center for Table Tennis in Uttarakhand. Our Director, Mr. Ashok Wasu, is the Hon. Secretary of the Uttarakhand Table Tennis Association of Uttarakhand and was responsible for organizing the South Asian Junior Boys and Girls Table Tennis Championship held in Dehra Dun in June 2010. We were invited by the International Table Tennis Federation and the Table Tennis Federation of India to hold the Junior and Cadet Open World Ranking Tournament in Dehradun from 28 Sept. 02 October 2011, in which about 100 players from 12 countries participated.
Number of Tournaments - School, Council Schools, District, State and Others the school has participated in so far.
| | |
| --- | --- |
| Football | 93 |
| Cricket | 97 |
| Basketball | 208 |
| Badminton | 132 |
| Table Tennis | 180 |
| Chess | 112 |
| Volley Ball | 36 |
And our performance in the above has really been outstanding.
We have produced National Players as under:
| | |
| --- | --- |
| Table Tennis | 48 |
| Basketball | 21 |
| Badminton | 5 |
| Shooting | 24 |