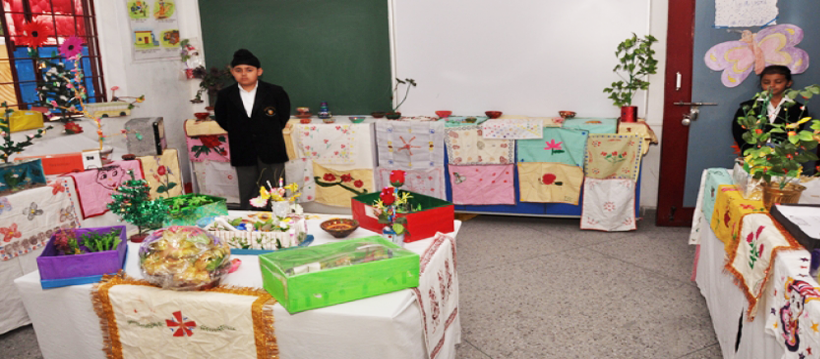 Exhibitions
On 21st October,2011 Sun Valley School was abuzz with vigor and enthusiasm as the students displayed their exemplary skills and sheer hard work in the form of various exhibitions.
The occasion was made even more momentous by the presence of Mrs.Veena Murgai. Children showcased that Geography can be fun by exhibiting interactive and colourful models of solar system, desert volcanoes, terrace farming, rivers and its courses and various landforms.
A colourful show depicted the leaders who reformed our country through the ages in the History exhibition.
In the Computer exhibition there were drawings made on paint brush by the students and the children played a number of exciting quizzes with the parents and guests.
The mathematics exhibition tested the mind power of the various guests and parents with puzzles and brain teasers. Children sang hymns and prayers and presented short interesting skits in the Hindi exhibition.
Creativity was at its best in the Arts Exhibition and craft exhibition with the students displaying their creative side. How plants eat food? Can you communicate with people far away without gadgets? All these questions were answered in the science exhibition. The young children also put up many interesting experiments which greatly amused the parents.
inderella was staged in the English exhibition. There were also short skits on parts of speech. Primary section children put up an action song "Mulberry Bush", small skits on moral values and a greatly fascinating display of art and craft. It was overwhelming seeing such small children perform with great confidence.
It was a day of fun and frolic, with all the students putting their best foot forward. Parents and guests were spell bound by the confidence and the exhibits displayed by the children.